Yellow Yard Darts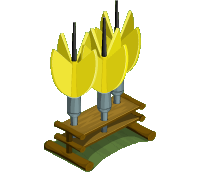 Yard darts, while dangerous in human size, are completely safe in gnome size because of the Enchanted Forest magic.
General Information
Type:
Decoration
Cost:
1325
Size:
2x2
Unlock at:
Level 23
Rewards
XP:
121
Brawl:
4
V • E • D
Description
Edit
Yellow Yard Darts were introduced to Gnome Town on 2nd November 2011. Blue and Red are also available.
It is necessary to place six Yard Darts (of any color) during the Gaming Culture quest.
Ad blocker interference detected!
Wikia is a free-to-use site that makes money from advertising. We have a modified experience for viewers using ad blockers

Wikia is not accessible if you've made further modifications. Remove the custom ad blocker rule(s) and the page will load as expected.