Twisty Mat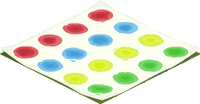 Twisty mats have many uses including dancing, games and target practice.
Rewards
XP:
168
Party:
6
V • E • D
Description
Edit
The Twisty Mat is usually first placed during the Do the Twist quest, in which Mrs. Squeakers wants to "boogey down old school", and requests a Twisty Mat to do this on.
Ad blocker interference detected!
Wikia is a free-to-use site that makes money from advertising. We have a modified experience for viewers using ad blockers

Wikia is not accessible if you've made further modifications. Remove the custom ad blocker rule(s) and the page will load as expected.