The Gnome King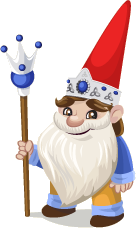 V • E • D
Descripton
Edit
The Gnome King was the Ruler of GnomeTown before the Evil Gnome came, he has since fled and is in hiding, with a few of his most trusted knights.
Occasionally, he may visit your Town, bringing his entourage with him. This is always a great occasion, and will involve a great deal of preparation.
The Gnome King will send you messages in the game which result in quests
There is a Statue of the Gnome King in the Town
The King's Entourage
Edit
The Gnome King rarely travels without his protective knights.
Ad blocker interference detected!
Wikia is a free-to-use site that makes money from advertising. We have a modified experience for viewers using ad blockers

Wikia is not accessible if you've made further modifications. Remove the custom ad blocker rule(s) and the page will load as expected.