Something's Wrong!
Mrs. Squeakers has relayed a message from the King. He would like to speak to you as soon as possible.

Talk to the King

Talk to the Jester
Completion
Edit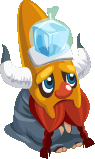 First, speak to the Gnome King, by clicking on him. He says:
"Ill news my good gnome. Unfortunately Sir Gnomeahad has fallen ill and can't perform in the tournament. I'd like to ask one more boon of you. Could you take his place in the tournament?"
Next, click on the Court Jester, who says:
"Ha, Sir Gnomeahad turns green, so we replace him with a green recruit instead. You'll need all the help you can get, I guess I can lend my services to you."
Quests
↓
↓
↓
←
→
↓
↓
→
→
↓
←
←
←
← →
→
↓
↓
↓
Ad blocker interference detected!
Wikia is a free-to-use site that makes money from advertising. We have a modified experience for viewers using ad blockers

Wikia is not accessible if you've made further modifications. Remove the custom ad blocker rule(s) and the page will load as expected.