Popcorn Cart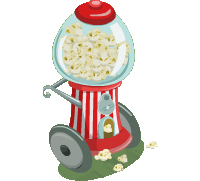 The popcorn cart provides delicious popcorn.
Rewards
XP:
32
Journey:
1
V • E • D
Description
Edit
The Popcorn Cart first appeared in Gnome Town on 2nd November 2011. It can be bought as a Decoration in the Market, or received as a Gift from a Neighbour.
The Popcorn Cart is required for the Lots of Food quest, part of the Carnival quest chain.
Ad blocker interference detected!
Wikia is a free-to-use site that makes money from advertising. We have a modified experience for viewers using ad blockers

Wikia is not accessible if you've made further modifications. Remove the custom ad blocker rule(s) and the page will load as expected.