Plastic Pipe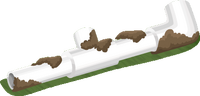 A long plastic pipe that would serve well as a center pole for a pavilion.
General Information
Type:
Lost Quest Item
Harvest in:
03:00:00
V • E • D
Description
Edit
The Plastic Pipe is an object that is found in the Enchanted Forest while exploring with Machetes during the Center Tent quest, part of the Carnival quest chain. It is required as a center support for the Carnival Pavilion.
Ad blocker interference detected!
Wikia is a free-to-use site that makes money from advertising. We have a modified experience for viewers using ad blockers

Wikia is not accessible if you've made further modifications. Remove the custom ad blocker rule(s) and the page will load as expected.