Orange Ornament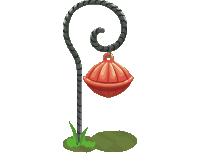 A curious human invention the ornament is said to adorn trees. This one is orange.
General Information
Type:
Decoration
Cost:
1000
Size:
1x1
Rewards
XP:
90
Party:
3
V • E • D
Description
Edit
The Orange Ornament first appeared in the game on 2nd November 2011. It appears to be an orange Christmas Tree bauble, attached to a hooked wire.
The Orange Ornament is required for the Ornamental Garden quest, part of the Carnival quest chain.
Ad blocker interference detected!
Wikia is a free-to-use site that makes money from advertising. We have a modified experience for viewers using ad blockers

Wikia is not accessible if you've made further modifications. Remove the custom ad blocker rule(s) and the page will load as expected.