Medal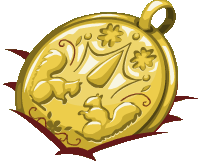 I wonder who won this?
General Information
Type:
Lost Quest Item
Harvest in:
12:00:00
V • E • D
Description
Edit
The Medal is discovered during the Medal of Honor quest, part of the Tournament Grounds chain of quests. It is found using 4 Machetes, after the Sir Lady Gnomivere suggests that you find a Royal Seal for the Tournament Grounds.
It takes 12 hours to collect the Medal, and another 12 hours to attach it to the Tournament Grounds.
Ad blocker interference detected!
Wikia is a free-to-use site that makes money from advertising. We have a modified experience for viewers using ad blockers

Wikia is not accessible if you've made further modifications. Remove the custom ad blocker rule(s) and the page will load as expected.