Description
Edit
The Gnoming Beacon is a tower that is constructed over a number of quests, with each quest being to find a part of the tower, and attach it.
Starting the Quest
Edit
The first quest will start when certain conditions are met. This will normally happen at about level 8, just after you have done the Botkin's Hungry quest.
A letter from the Gnome King will pop up on the screen, without the need for you to visit your Mailbox. The letter reads: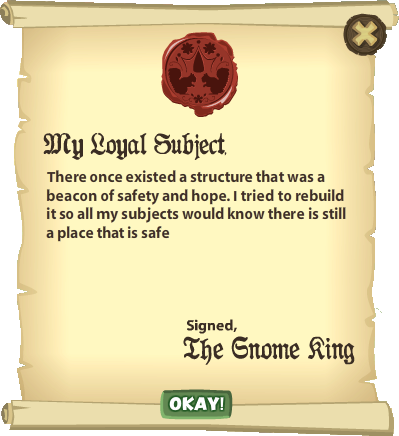 Required Quests
Edit
NOTE: This section is incomplete, and needs work. The quest names are mostly missing, may be in the wrong order and there may even be missing quests.
In order to build the Gnoming Beacon tower, the following quests need to be completed:
Quest 8: Build a Lookout (incorrect title - edit)
Construct a lookout post on the tower
Quest 9: Lighting the Beacon (incorrect title - edit)
Collect Fireflies (from gifts) to fill the jar
Quest 10: Top of the Tower (incorrect title - edit)
Find a funnel to finish off the top of the tower
|}
Daily Maintenance
Edit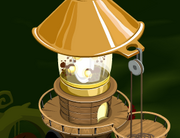 Once it has been built, the Gnoming beacon requires daily maintenance just like any other building. There is no counter to tell you how long until it next needs maintenance, or any icon over it when it is ready. The only way to tell, is to check the light at the top of the beacon. If it has stopped glowing, and you can see the exhausted fireflies inside, then you can click on the beacon to perform the daily maintenance.
Performing daily maintenance on the Gnoming Beacon will reward you with 100 Silver Coins and 30 XP.