Gnome Fortress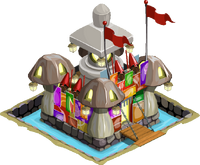 General Information
Type:
Quest Reward
Building
Requires:
10 Friends
Brawl:
600
V • E • D
Description
Edit
The Fortress is a huge building that is built to fend off the advances of the Evil Gnome. It is built following a letter from the Evil Gnome, which scares Botkin. It can take several days to build the Fortress, although when it's complete, Botkin feels safe.
Requirements
Edit
While building the fortress, you will need a large amount of supplies. Each stage can drastically drain your hard-earned resources, so you may wish to save up before starting on the quests. You will need:
The following quests must be completed in order to build the fortress: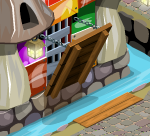 Daily Collection
Edit
Like any other building, the Fortress can be collected from daily. When it is ready to be collected from, the drawbridge will be raised, the lights in the nearest tower will go out, and it will say 'Ready for collecting' when the mouse pointer hovers over it. There is no other indication, unlike other buildings.
Collecting from the Fortress will reward you with 60 XP and 122 Food.
Ad blocker interference detected!
Wikia is a free-to-use site that makes money from advertising. We have a modified experience for viewers using ad blockers

Wikia is not accessible if you've made further modifications. Remove the custom ad blocker rule(s) and the page will load as expected.