Discarded Fabric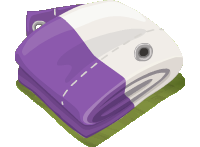 This large piece of discarded fabric is perfect for the top of a pavilion if it didn't have so many holes in it.
General Information
Type:
Lost Quest Item
Harvest in:
08:00:00
V • E • D
Description
Edit
The Discarded Fabric is discovered during the Top It Off quest, and then recovered during the Tailoring a Repair quest. Both quests are part of the Carnival quest chain.
Recovering the Discarded Fabric takes 8 hours, and requires 30 Magic Cloth, which will be removed from your Inventory.
The Discarded Fabric is used to cover the Carnival Pavilion.
Ad blocker interference detected!
Wikia is a free-to-use site that makes money from advertising. We have a modified experience for viewers using ad blockers

Wikia is not accessible if you've made further modifications. Remove the custom ad blocker rule(s) and the page will load as expected.