Chiminea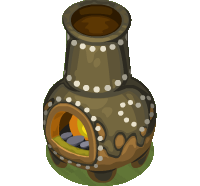 This brings some southwestern flair to your Enchanted Forest abode.
Rewards
XP:
62
Party:
2
V • E • D
Description
Edit
The Chiminea is a large pot with a narrowing neck, which has holes in the side for burning wood. It provides a great deal of heat, making it perfect for evening outdoor parties.
The Chiminea is required for the Keeping Warm quest, part of the Carnival quest chain.
Ad blocker interference detected!
Wikia is a free-to-use site that makes money from advertising. We have a modified experience for viewers using ad blockers

Wikia is not accessible if you've made further modifications. Remove the custom ad blocker rule(s) and the page will load as expected.