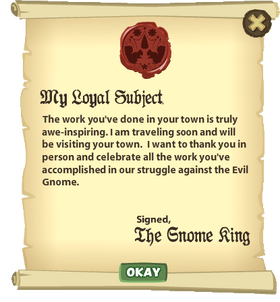 Description
Edit
The Carnival is an event in your Gnome Town, which requires a lot of preparation. It therefore also describes the chain of quests during which you prepare for the Carnival by building a Carnival Pavilion.
The Carnival chain of quests begins with a letter from the Gnome King.
Requirements
Edit
Preparing for the Carnival isn't cheap. You will need the following resources to complete all the quests.
The following quests must be completed in order to build the fortress:
Ad blocker interference detected!
Wikia is a free-to-use site that makes money from advertising. We have a modified experience for viewers using ad blockers

Wikia is not accessible if you've made further modifications. Remove the custom ad blocker rule(s) and the page will load as expected.