Candy Bag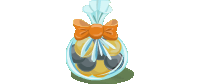 With all sorts of goodies inside.
General Information
Type:
Gifted Item
Rewards
XP:
10
Food:
90
V • E • D
Description
Edit
Candy Bags were introduced to the game on 12th October 2011 as part of the Halloween themed items. They could originally be sent as gifts to other players, but within a few hours, they were removed from the gifts list. A day later, however on 13th October, they could once again be sent as a gift. They can also be placed in neighbours towns when you visit them, replacing the Food Platter.
Once it has been placed in your neighbours town, you will receive 40 Food and 10 XP. If your neighbours leave one in your town, or if you place one from your inventory, you must then click on it to use one of your Helpers. Opening the Candy Bag takes 5 seconds, and will reward you every time with 90 Food and 10 XP.
As each Candy Bag is opened, there is also a chance that it will drop an item from the Halloween Collection. The drop rate varies, but seems to average between 1-in-5 and 1-in-8 (one item per 5 to 8 Candy Bags).
Ad blocker interference detected!
Wikia is a free-to-use site that makes money from advertising. We have a modified experience for viewers using ad blockers

Wikia is not accessible if you've made further modifications. Remove the custom ad blocker rule(s) and the page will load as expected.