A Mortar for Mortar
Retrieve the mortar and pestle and attach it to the foundation of the beacon.

Retrieve the Mortar From the Forest

Attach the Mortar to the Lighthouse Foundation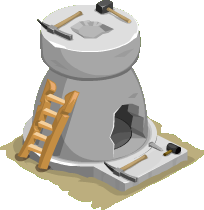 Completion
Edit
For the first part, you need to click on the Mortar and Pestle. It will take 1 hour to retreive them. You will be given a Mortar and Pestle in your Inventory.
For the second part, you will need to click on the Foundation. It will take 1 hour to hammer the Mortar and Pestle into the foundation. The Mortar and Pestle will be removed from your inventory.
Quests
↓
↓
↓
←
→
↓
↓
→
→
↓
←
←
←
← →
→
↓
↓
↓
Ad blocker interference detected!
Wikia is a free-to-use site that makes money from advertising. We have a modified experience for viewers using ad blockers

Wikia is not accessible if you've made further modifications. Remove the custom ad blocker rule(s) and the page will load as expected.